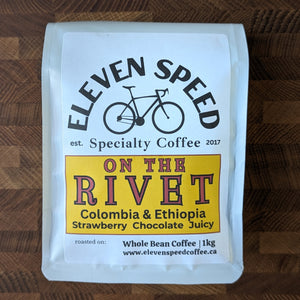 ON THE RIVET | A BLEND
Regular price $15.00 Sale
 'On the rivet', loosely taken from the Canadian phrase 'Give'er' - to ride at your limit for an extended period of time. The saying comes from the golden days of racing where cycle saddles were made of leather, rivetted to a frame, Eddy Merckx was a famous 'on the rivet' rider, pushing muscles and mind beyond what seems humanly possible.

Of course you do not need to be the greatest cyclist the World has ever known, On the rivet is a state of bliss between mind and body, knowing the exact point of being able to push yourself to achieve a goal -  whether you are completing a Fondo or just trying to keep up to the ScotchCX guys, everyone has their On the Rivet spot!
Our On the Rivet blend is made up of chocolatey South American and bright natural processed East Africa beans, roasted to 11spd's 'espresso' profile this blend is sure to become a staple for riders everywhere!