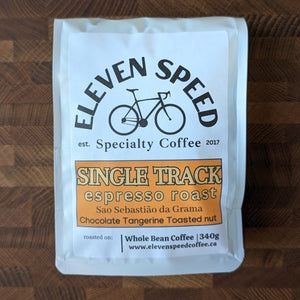 SINGLE TRACK | SINGLE ORIGIN ESPRESSO ROAST
Regular price $15.00 Sale
Singletrack (or single track) describes a type of mountain bike trail that is approximately the width of the bike. It contrasts with double-track or skidder track which is wide enough for four-wheeled off-road vehicles. It is often smooth and flowing, but may also feature technical rocky sections, go over tree roots, and include berms, banked turns, switch-backs, hills, wicked drops, jumps, and so forth. 
Many mountain bike riders prefer singletrack over other types of trails, as singletrack is usually designed specifically for the sport, and therefore can have elements which highlight features of the sport (whereas other trail types will usually be more straight, and not exhibit as many hills and other special features). Some singletrack includes trail features designed to challenge riders, such as  log rides, skinnies, rock gardens, gap jumps and plunges.
Our Single Track Single Origin Espresso is an ode to the best single track around! A project many months in the making, this roast will feature rotating, carefully selected single origin coffees roasted specifically for espresso extraction. This roast will change periodically throughout the year as coffee harvests become available. For February, we have a fantastic natural Brazil coffee from Minas Gerais - a super clean & crisp espresso, perfect to get you ready for those long base miles.
Ride on.